Nissan Pathfinder in Left Hand Drive and Right Hand Drive are available. Email us at jim12cars@gmail.com to get vehicles from Dubai, Thailand, Australia and UK.
Nissan Pathfinder LHD Versions in Dubai
| | | | |
| --- | --- | --- | --- |
| Nissan Pathfinder 3.5 S Type 15 | Nissan Pathfinder 3.5 S Type 30 | Nissan Pathfinder 3.5 S Type 20 | Nissan Pathfinder 3.5 S Type 35 |
| 3.5 Litre Petrol | 3.5 Litre Petrol | 3.5 Litre Petrol | 3.5 Litre Petrol |
| 2 WD CVT | 4 WD CVT | 2 WD CVT | 4 WD CVT |
| 254 BHP 8 Seats | 254 BHP 8 Seats | 254 BHP 8 Seats | 254 BHP 8 Seats |
Nissan Pathfinder
Nissan Pathfinder On the Road
Nissan Pathfinder Intuitive 4WD
With Pathfinder's All-Mode 4×4-i, you've got a system that's capable on-road and off. And it's the only vehicle in its class with selectable driving modes.1 You can choose full-time 2WD for maximum efficiency. Auto Mode constantly monitors conditions and adjusts the balance of power between front and rear wheels for best traction. Challenging conditions? 4WD Lock Mode is your choice. And when your travels take you on steeper paths, hill start assist helps prevent rollback when starting and driving away on an incline.
Nissan Pathfinder Efficiency
Efficiency, brought to you by the Next-Generation Xtronic CVT.® With Pathfinder's class-exclusive Xtronic CVT® transmission, you have a virtually gearless wonder. It can hold the engine at the ideal rpm for the job, giving you a wave of power when you need it and running low rpm for quiet, efficient cruising when you don't. Proof? Best-in-class fuel economy in city (8.5 KMPL), combined (9.4 KMPL) and highway (11.1 KMPL).
Nissan Pathfinder Power
Courtesy of a 3.5–L V6 Engine. Seven on board, a big beautiful boat in tow. This is the stuff that tests what an SUV is made of. Pathfinder takes it on with 254 hp of 3.5-L V6 muscle and a CVT that knows the engine's sweet spot for the power you need, giving a standard 1,500 KGs towing capacity.
Nissan Pathfinder Around View Monitor
The system works by converting the view from each of four wide-angle cameras (in the front and rear and in the side mirrors) into a virtual composite overhead view of your Pathfinder. Now you can see your vehicle's position in relation to its surroundings on all sides, helping you avoid not only the car behind or in front, but helping to save your wheels from nasty curb scuffs.
Nissan Pathfinder Advanced Drive Assist
From trip computer to 4WD torque distribution, the new Advanced Drive-AssistTM Display serves up info right in front of you – helping to minimize time looking away. Its intuitive 3-D depth and tilt design help you take it all in quicker.
Nissan Pathfinder Intelligent Key Remote Start
It all starts with the press of a button, and you are in the comfort of your home. Because an available Remote Engine Start System lets you cool down your Pathfinder from up to 60 metres away. Now when you open the car door, it's as if Pathfinder was expecting you. Just press the Push Button Ignition and you're on your way.
Nissan Pathfinder Advanced Safety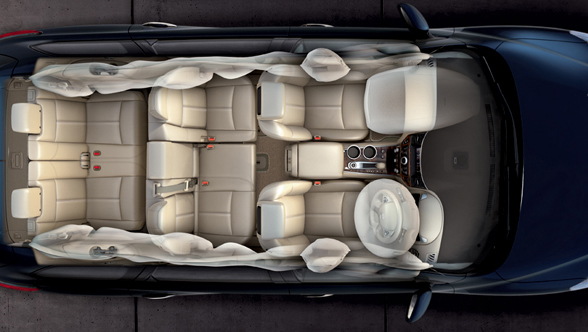 Because you can never be too prepared, Pathfinder is equipped with advanced safety features to ensure a safe travel for you and your family.
Vehicle Dynamic Control VDC
Traction Control System TCS
Anti-lock Braking System ABS
Tyre Pressure Monitoring System TPMS
Electronic Brake Force Distribution EBD
Brake Assist BA
Brake Override Technology BOT
Nissan Pathfinder Interior
If you've ever taken a trip with kids, you probably know it's hard to please everyone. But with Pathfinder's available Tri-Zone DVD Entertainment System, you actually can.1 The rear monitors can play individually, giving a choice of DVDs, video games that you can control from the audio system's 8-inch VGA screen. And with those in back wearing wireless headphones, you can adjust the 12-speaker Bose® audio system to play only in front, letting you enjoy your own choice of entertainment in perfect harmony.
Nissan Pathfinder HDD Navigation System
The class-leading Navigation System features a high-resolution WVGA 8-inch touch screen that displays the destination in compass mode.
Nissan Pathfinder Easy Third Row Access
What good is a spacious 3rd row if you can't get to it? Pathfinder now come with a 2nd row that glides and tilts forward for easy access. And once you're in the 3rd row, you'll find it's exceptionally comfortable, thanks to class-exclusive reclining seats. With the all-new Nissan Pathfinder, you can even tilt and slide the right side of the 2nd row with a child seat securely strapped in.
Nissan Pathfinder Zone Automatic Control
The most comfortable Pathfinder ever beckons you with premium comforts, including standard Tri-Zone Automatic Temperature Control – individual Automatic temperature set per zone – and available cooled 1st and 2nd-row seats.
Nissan Pathfinder Spaciousness
Cargo? Pathfinder makes easy work of it, with folding 2nd- and 3rd-row seats that create a virtually flat floor and up to 2.26 cubic metres of cargo space. There's also an under-floor storage area that keeps valuables out of sight. It's easily accessed even when the 3rd row is upright, for extra cargo space when you've got seven on board.
Nissan Pathfinder 9GB Music Box Hardware
Enjoy your personal music library where you can record around 300 CDs up to 9GB. Control your iPod® with the audio system or play music and videos from a USB flash drive or other compatible storage devices.
Nissan Pathfinder Hybrid
INTRODUCING THE ALL-NEW NISSAN PATHFINDER HYBRID
Powerful Fuel Efficient Hybrid Pathfinder
With a responsive 250-horsepower, 2.5 L supercharged 4-cylinder petrol engine combined with an electric motor Pathfinder Hybrid goes the distance for you in every way it's designed with a best-in-class range of 785 km on a single tank, and further enhanced fuel efficiency versus the regular Pathfinder (combined: 9.1 km/L).
"DON'T FORGET IT'S A FAMILY SUV" the comfort of best-in-class roominess the convenience of easy access to the 3rd row, and the rugged capability of the All-Mode intuitive 4WD system.
Nissan. Innovation that excites.TM
HEV Battery Technology
With advanced durability of over 15 years / or an average of 400,000 km battery life.
Space-Saving Battery Pack
That means comfortable room for seven and no loss of interior or cargo space.
Intelligent Dual Clutch System
that alternates between the electric motor and petrol engine, depending on driving conditions and power required.
Regenerative Braking system
that captures energy generated at braking, and uses it to recharge the lithium-ion batteries.